Graphics For Recreational Vehicles
Boats
Living in Destin, FL you just can't help to notice the number of marine vehicles. Ranging from Jet Ski's to 60' yacht's. If you are one of these individuals more than likely you have some form of decal or custom graphic on yours.
If you don't then perhaps we can help. Applying Boat Letters and Graphics is quick and easy. Vinyl Boat Letters and Graphics can be used to name your boat or to satisfy Coast Guard regulations like registration numbers and hailing port. Marine grade vinyl ensures your letters will stick for years to come.
We can also remove old graphics that has become faded or peeling and replace the old with new fresh artwork to make you vessel look new again. So whether you are in need of brand new graphics, replacing old ones or would like to spice things up a little then please give us a call.

Jet Ski
From our Custom-Fit Decals and Graphics to our Registration & Race Numbers we will make your water craft stand out in the crowd!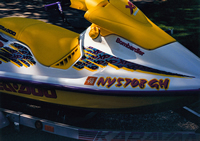 Combining the latest designs with high quality materials & wholesale prices, we have been selling the best in graphics for over 10 years.